Custom Printed Ribbon 7/8" - 20 mm. ( CP1001 )
Elevate your gift-giving experience with custom-printed ribbons from Adele Rae Florists. Our exquisite ribbons are personalized through hot stamping technique, adding a touch of elegance to your product. Simply share your logo, graphics, or desired message for your ribbon, and we'll craft up to three unique design options for you to select from. This ribbon is 7/8" in width and come in various lengths: 5 meters, 10 meters, 25 meters, 50 meters, 75 meters, or 100 meters. Make your gifts truly special with our personalized ribbons.
If you own a retail shop like a flower shop, gift shop or clothing shop, this product will be ideal for your branding efforts.
We deliver to any area in Metro Vacouver, the production times run from 2-3 weeks depending on the amount of your order.
If you are having problems adding your logo please send us an email at flowers@adeleraeflorist.com so we can process your order manually. 
Special prices on wholesale orders. 
What are the reasons for opting for a personalized printed ribbon?
Custom printed ribbons offer versatility, allowing for personalization, branding, decoration, and communication of messages across different contexts. Ribbons can be used for gift wrapping, decoration, branding, promotional materials, events, memorials, DIY Projects and more...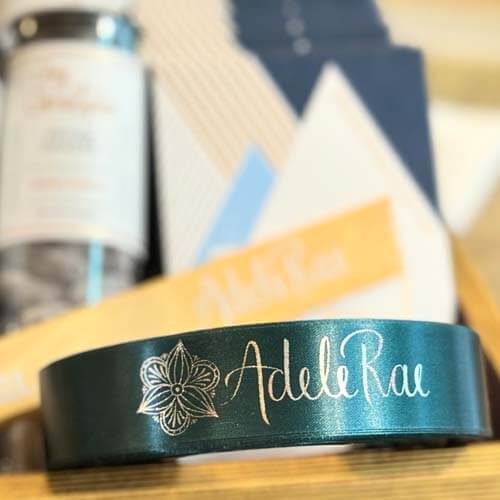 Frequently Bought Together
Have a question? We are happy to help.
Frequently asked questions. Call 604-299-0585 if you require further assistance.
Can you add a logo to my ribbon?
Yes we can, please send us your vectorized logo at flowers@adeleraeflorist.com with your order number. For obtaining the best quality possible in your ribbon it is extremely important your logo is vectorized.
How is my ribbon going to look like?
When will I receive my ribbon?
Can you print my ribbon in two or more colours?